Hello Internet,
You are cordially invited to attend the retirement party of R&D's workstation, this mustard color case resembles Dwight Schrute (from you know where) is our workhorse doing all kinds of work since 2006. Here are a few photos from Flickr we took back then when we first bought the components.
https://www.flickr.com/photos/binarytaskforce/tags/computer/
Throughout the years, most of the components lasted and we only had to replace the power supply and video card.
In comes the our new build
https://ca.pcpartpicker.com/list/RfJ2D8
CPU: AMD – Ryzen 7 1800X 3.6GHz 8-Core Processor
CPU Cooler: Cooler Master – MasterLiquid 120 66.7 CFM Liquid CPU Cooler
Motherboard: Asus – PRIME X370-PRO ATX AM4 Motherboard
Memory: Kingston – Savage 32GB (2 x 16GB) DDR4-2400 Memory
Storage: Kingston – Savage 480GB 2.5″ Solid State Drive (QTY: 2)
Video Card: Asus – GeForce GTX 1070 8GB Video Card
Case: Corsair – Crystal 460X RGB ATX Mid Tower Case
Power Supply: EVGA – BQ 750W 80+ Bronze Certified Semi-Modular ATX Power Supply
Operating System: Microsoft – Windows 10 Pro OEM 64-bit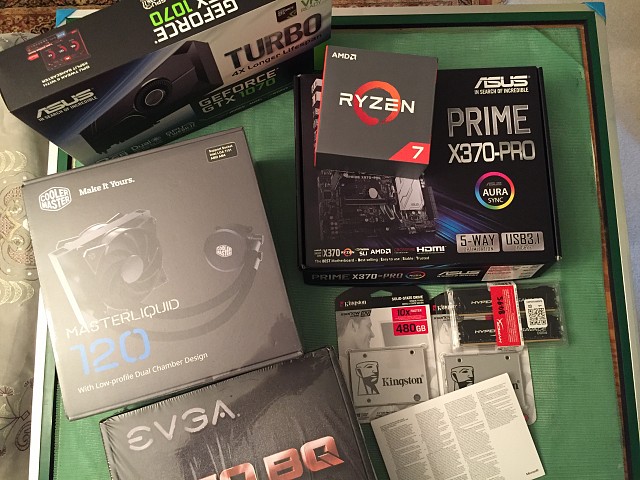 Building notes
A glass case with LED glowing fans! Wow, we wanted one when we came across it from Corsair website. A thorough inspection showed the steel case is well designed and nicely painted. OMG, the fans are just regular (3wire, 12V) computer fan with lights!
Install Power Supply to case
Install CPU to motherboard
Install motherboard to case, test fit Cooler Master – MasterLiquid 120
Route power, internal cables, audio, USB to motherboard
Plan and hook up cooling fans
Paste CPU and mount MasterLiquid 120
Install memory sticks
Install SSD drives
Install Video card and plug in power
Tie wrap and harness cabling
Close panels
Power Up
Update BIOS PRIME-X370-PRO-ASUS-0805
Using ASUS X370 on board RAID-1 & Kingston Savage UV480GB drives with Windows 10 Pro 64bit.  (Source)
Download PRIME X370-PRO User's Manual and read up section 4.1.3 (Setting up RAID from RAIDXpert2 Configuration Utility in UEFI BIOS)
Download AMD RAID driver V8.1.0.26
Kingston Technology SSDNow UV400 (480GB drives x 2), plugged into SATA6G_1 and SATA6G_2
Microsoft Windows 10 (Creators Update)
RAIDXpert2 UEFI BIOS procedures
Follow PRIME X370-PRO User's Manual section 4.1.3 to create RAID set, here are the highlights
Change SATA configuration mode selection to [RAID]
Make sure Launch CSM is [Disabled]
Access RAIDXpert2 Configuration Utility in Advanced menu
Go Array Management select Create Array
Select RAID level and select Physical Disks, apply Changes
Specify Array Size and Create Array
Windows install procedures
Windows will NOT recognize the RAID thus you will be asked to provide and load the driver during installation
First load AMD-RAID Bottom Service by navigate to \AMD_RAID_driver_Win7-10_V81026\PT_RAID\RAID_bottom\WT64A
Second load AMD-RAID Controller [storport] by navigate to \AMD_RAID_driver_Win7-10_V81026\PT_RAID\RAID_driver\WT64A
Your disk created from RAIDXpert2 UEFI BIOS previously should now show up for Windows installation.
Upon completion of Windows installation
Download and unzip \AM4Chipset_9.0.000.8_5.12.0.31_20170531. Unzip and run AsusSetup.exe. This allows Windows to recognize all motherboard features.
Download and install Nvidia driver from http://www.nvidia.com
Disk failure simulation
Power off system
Unplug power cable from one of the drive from the RAID set
Power on system and boot to Windows
The installed RAIDXpert2 software will report Array 1 has gone critial
Power off system and re-connect power cable to drive, restart system
Run RAIDXpert2 software and assign the REMOVED disk as dedicated spare
RAIDXpert2 software will take the dedicated spare and attempt to rebuild the array, wait for rebuild task to complete
RAID set will be back to normal when rebuild completes
So what about the old one?
Yes, our work horse has passed its production 24x7x365 life, it will continue its journey into next stage as a basic Linux platform as the retirement plan. We have plan to transform it using Debain. Hey probably some of this below.
https://hadoop.apache.org/docs/stable/hadoop-project-dist/hadoop-common/SingleCluster.html
Cheers, Team BTF