Readers,
Here is an external drive case (Used to be an external DLT tape backup unit). Backup drive mechanism was long gone but the enclosure caught our attention as it features a 110~240V power supply with 12V and 5V output railings.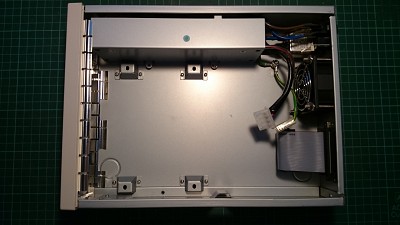 Backup Drive
Former life as a SCSI tape backup unit, back panel of the drive enclosure features build-in 12V DC fan, SCSI input/output ports, SCSI ID selector, Power ON/OFF switch and IEC 60320 C14 input for AC power input.
The shielded power supply is nicely place on the side of the enclosure, neutral ground is bolted directly to the metal bottom plate. There is only one output from the power supply to standard LP4 Molex connector.
Unscrew the shield, we expose a typical power supply setup.
We noticed the small vertical board next to the transformer but wasn't able to catch anything on it, perhaps some sort of power protection and temperature sensing circuitry? In order to re-purpose the case, we start from removing the re-designing the front bezel.


A bit of re-engineering, bringing the front panel into Inventor. We re-worked the front bezel.
Time to get that 3D printed.
That's all for now, we have yet to decide what we are going to use this for.
Enjoy,
Team BTF